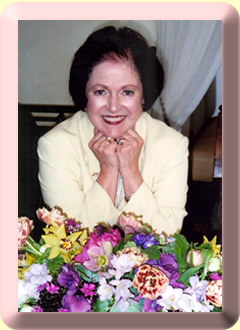 As young girl growing up in the Black Hills of South Dakota, Jen was fascinated by and carefully observed both her grandmothers create delicious baked goods, sweet and savory breads and just plain sweets. At age 12 her family moved to California, and Jen left her baking idols behind. Yet, the technique and ease with ingredients and the tools of the trade seemed to come naturally to Jen. Through the years, Jen's friends and family enjoyed the treats that Jen made in abundance during the holidays and also her many well-received forays into cooking and entertaining throughout the years. Jen was educated in San Diego; she became a lawyer and has practiced law here since 1976. She holds her active membership in the California Bar Association and continues to actively work as an Arbitrator and Mediator, principally in the area of labor and employment law.
In 2000, Jen's husband retired and started his own Internet consulting company, her daughter became happily married, and her Mother was diagnosed with Alzheimer's Disease. Family issues figured prominently thereafter. By the beginning of 2004, Jen longed for something actively creative to embrace as she began a new decade in her life. She intuitively turned to baking and creating…for her friends and family. Thus was born Jen's theme cookies and more. The photo here of a happy Jen was taken on that birthday; long-time and loving friends surrounded Jen. The gorgeous flowers in the foreground were a luncheon gift from her husband.
Birthday over, Jen set out to immerse herself in honing her baking and decorating skills. Through a combination of self-directed research and practice and an ever-increasing number of classes, Jen developed an impressive portfolio of work. This work and effort was principally just for fun, but Jen always had the urge to make it a business, at first referring to it as her virtual special order bakery. But the fantasy took on a real sense of possibility when Jen found a commercial kitchen and its owner who would rent her space and time. So it became time to be serious about a marketing plan, which included using the Internet and other outreach. Jen's husband, a software engineer, built the web site and Jen's daughter, a marketing executive on sabbatical and starting a family (Jen's first grandchild arrived in 2005), developed graphic arts and advertising. In 2005, Jen participated in cake decorating classes in New York City with the nationally known chef, artist and educator, Toba Garrett
You will now find Jen dividing her time between traveling and sharing her creative skills in the culinary arts. Bon appétit.